Corporate Profile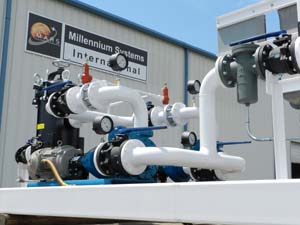 Executive Overview
Millennium Systems International, LLC is a Maryland-based company dedicated to providing total system solutions to customers involved in the storage, transfer, measurement, control and automation of bulk liquid products.
Mission Statement

To provide innovative, technology-driven solutions to our customers' bulk liquid handling problems in a cost-effective manner that improves customer safety, performance, productivity and profitability while providing for the personal growth and development of our shareholders.
Corporate Background
Gordon Johnson, President of Millennium Systems International, LLC is the former President and COO of a large, Maryland-based systems engineering firm where his 24-year career was devoted to the sales and marketing of petroleum, aviation and industrial liquid handling equipment to a broad range of both domestic and international customers. Our International Project Experience List highlights some of the project experience of Mr. Johnson and other principals of Millennium Systems International, LLC.
Products:

The products which Millennium Systems International, LLC offers include the following:
Liquid Storage Systems: Aboveground & Underground Storage Tanks
Reactors, Vessels & Mixing Tanks
Tank Vents, Fittings & Accessories
Tank Monitoring & Gauging Systems
Liquid Transfer Systems Centrifugal & Positive Displacement Pumps
Line Strainers & Filtration Equipment
Loading Arms, Swivels & Dry Break Couplings
Hoses, Hose Reels, Couplings & Fittings
Liquid Measurement Systems Flowmeters & Accessories
Level, Pressure & Temperature Controls
pH, Conductivity & Resistivity Controls
Packaged Skid Systems
Tank Trucks & Specialty Vehicles Petroleum & Lube Oil Tankers
Fuel Oil Delivery Tank Trucks
Aviation Refuelers & Hydrant Servicers
Contractor Fuel Servicing Trucks
Water Tankers & Street Flushers
Runway Deicer / Derubberizer Trucks
Services
In addition to providing product and system solutions to our customers' bulk liquid handling problems, Millennium Systems International, LLC also offers the following professional services:
Design and Engineering Services
AUTOCAD Design and Drawing Services
Project Management Services
Turn-key Mechanical & Electrical Installation
Start-Up, Commissioning & Training Services
Warranty, Spare Parts & After-Sales Support
Maintenance & Service Contracts
Markets
Key markets for Millennium Systems International, LLC include:
Petroleum & Petrochemical
Aviation & Transportation
Paints & Coatings
Inorganic Chemicals
Food & Beverage
Printing & Ink
Pharmaceutical & Cosmetic
Bulk Liquid Terminals
Government & Defense
International
Summary
Millennium Systems International, LLC provides a unique, integrated offering of high technology products and services focused on markets where its expertise in bulk liquid handling can provide maximum value for both its customers and shareholders.
For additional details contact:
Gordon Johnson
Phone: 443-838-9550
Fax: 443-836-0222
E-mail